High Purity Water System
This guide discusses, primarily from a microbiological aspect, the review and evaluation of high purity water systems that are used for the manufacture of drug products and drug substances. It also includes a review of the design of the various types of systems and some of the problems that have been associated with these systems. As with other guides, it is not all-inclusive, but provides background and guidance for the review and evaluation of high purity water systems. The Guide To Inspections of Microbiological Pharmaceutical Quality Control Laboratories (May, 1993) provides additional guidance.
I. SYSTEM DESIGN
High Purity Water System One of the basic considerations in the design of a system is the type of product that is to be manufactured. For parenteral products where there is a concern for pyrogens, it is expected that Water for Injection will be used. This applies to the formulation of products, as well as to the final washing of components and equipment used in their manufacture. Distillation and Reverse Osmosis (RO) filtration are the only acceptable methods listed in the USP for producing Water for Injection. However, in the bulk Pharmaceutical and Biotechnology industries and some foreign companies, Ultra Filtration (UF) is employed to minimize endotoxins in those drug substances that are administered parenterally.
For some ophthalmic products, such as the ophthalmic irrigating solution, and some inhalation products, such as Sterile Water for Inhalation, where there are pyrogen specifications, it is expected that Water for Injection be used in their formulation. However, for most inhalation and ophthalmic products, purified water is used in their formulation. This also applies to topicals, cosmetics and oral products.
VI. HEAT EXCHANGERS
One principal component of the still is the heat exchanger. Because of the similar ionic quality of distilled and deionized water, conductivity meters cannot be used to monitor microbiological quality. Positive pressure such as in vapor compression or double tubesheet design should be employed to prevent possible feedwater to distillate contamination in a leaky heat exchanger.
An FDA Inspectors Technical Guide with the subject of "Heat Exchangers to Avoid Contamination" discusses the design and potential problems associated with heat exchangers. The guide points out that there are two methods for preventing contamination by leakage. One is to provide gauges to constantly monitor pressure differentials to ensure that the higher pressure is always on the clean fluid side. The other is to utilize the double-tubesheet type of heat exchanger.
High Purity Water System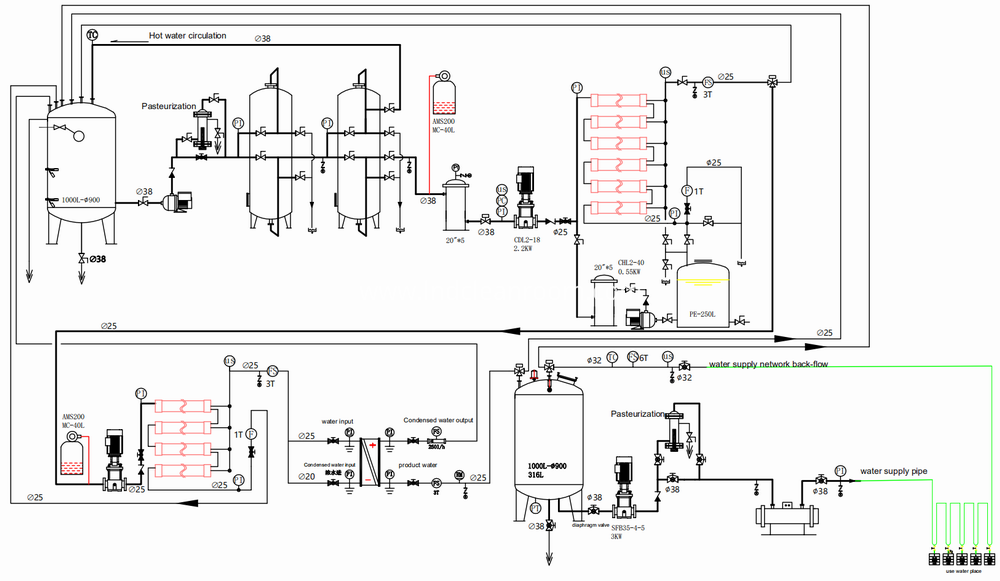 Jiangmen Leonard Industrial Machineries Co., Ltd.
Business Type:Agent , Distributor/Wholesaler , Manufacturer , Organization , Service
Product Range:Curtain Walls , Other Machine Tool Equipment , Repairs & Maintenance
Products/Service:Clean Room Design and Construction , Clean Room Sandwich Panel , Water For Injection Systems , Clean Room Construction Materials , High Purity Water System , Insdustry GMP Clean Room
Certificate:
Company Address:RM 1918, B Buliding, Wanda Plaza, Jiangmen City, Guangdong, China, Jiangmen, Guangdong, China


Previous: Design and manufacture of Water For Injection Systems
Next: Production of Clean Room Construction Materials in China