Clean Room Construction Materials
level:100-100,000
Medical device GMP clean workshop: refers to the clean room that meets the production requirements of class II and class III medical device according to the requirements of the regulations on the supervision and administration of medical devices and the production quality management standards of medical devices.
1) The structure part generally purifies the workshop wall.Top plate is generally made of 50mm thick sandwich color steel plate.Its characteristic is beautiful, rigidity is strong, heat preservation performance is good, easy construction. Circular arc corner, door, window frame and other general use of special purification special profile manufacturing.
2) Floor can choose epoxy floor or high - grade wear - resistant plastic floor, if have antistatic requirement, can choose antistatic type.
3) The air return pipe is made of hot transfer zinc plate and pasted with the flame retardant PF foamed plastic sheet with good purification and insulation effect.
4) The high-efficiency air supply port is generally cut and welded into static pressure box with cold-rolled plate and then sprayed plastic treatment, then inlaid and fixed high efficiency filter, beautiful and clean, punching mesh plate with baking paint aluminum plate, no rust and no dust, suitable for cleaning.
2. The dust-free medical equipment factory not only has high equipment cost, complex production process, high requirements on cleanliness and sterility, but also has strict requirements on the quality of production personnel.
3. Potential biological hazards will occur in the production process, mainly including (risk of infection, toxicity, sensitization and other biological reactions caused by dead bacteria or dead cells and components or metabolism to human body and other organisms, toxicity, sensitization and other biological reactions of products, and environmental effects).
4. Clean Area: the room (Area) that needs to control dust particles and microbial pollution in the environment. Its building structure, equipment and use all have the function of preventing the introduction, generation and retention of pollutants in the Area.
5. Air Lock: an isolated space with two or more doors set between two or more rooms (such as rooms with different cleanliness levels).The purpose of setting the air lock is to control the airflow while the personnel or material is in and out.The air lock is divided into personnel air lock and material air lock.
6. The basic characteristics of clean workshop for medical equipment: dust particles and microorganisms must be taken as environmental control objects.
7. The cleanliness of medical equipment production workshop is divided into four levels: local level 100, level 1000, level 10000 and level 30000 under the background of level 100 or level 10000.
8. Clean room temperature: without special requirements, in 18 to 26 degrees, relative humidity control in 45 to 65 percent.
9. Pollution control of clean workshop of medical equipment: pollution source control, diffusion process control, cross pollution control.
Clean Room Construction Materials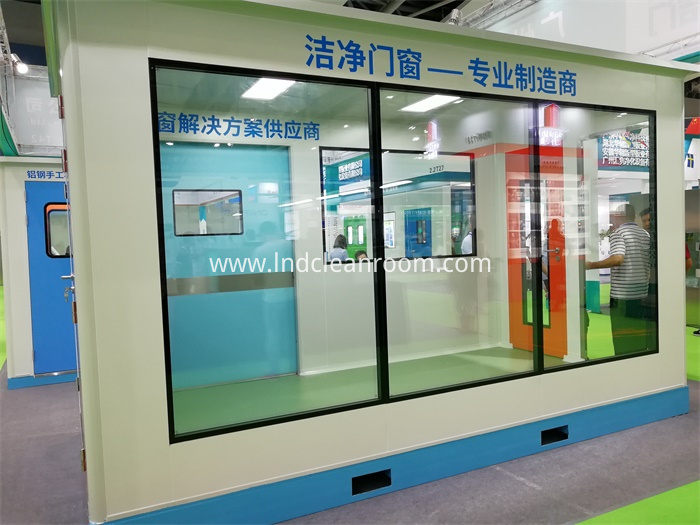 Jiangmen Leonard Industrial Machineries Co., Ltd.
Business Type:Agent , Distributor/Wholesaler , Manufacturer , Organization , Service
Product Range:Curtain Walls , Other Machine Tool Equipment , Repairs & Maintenance
Products/Service:Clean Room Design and Construction , Clean Room Sandwich Panel , Water For Injection Systems , Clean Room Construction Materials , High Purity Water System , Insdustry GMP Clean Room
Certificate:
Company Address:RM 1918, B Buliding, Wanda Plaza, Jiangmen City, Guangdong, China, Jiangmen, Guangdong, China


Previous: InSDustry: About GMP Clean Room